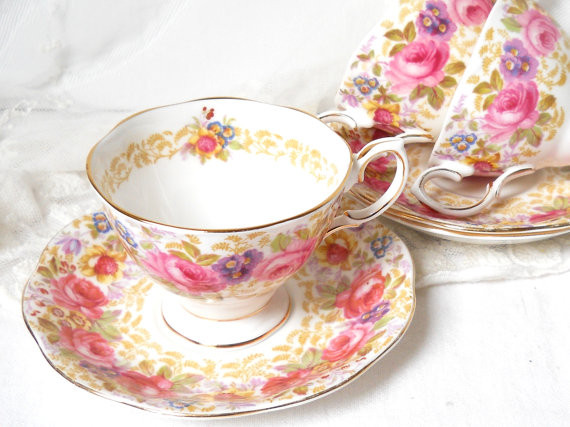 We went to the Victoria & Albert museum for porcelain exhibition and we understand that the consumption of tea match with the improvement of the British pottery factories. Indeed we decided to share this with you !  
Tea time as real way of life for many centuries, each home have its own porcelain, which has a central place. It is not only a decorative element, this is a real part of the social and economical life.
What is "british porcelain" exactly ?
The real porcelain name is "bone china", in fact it is a soft-paste porcelain made with bone-ash or more precisely : 25% of kaolin, 25% of Cornwall's stone and 50% of bovine bone-ash.
This mixture created by the british ceramist Josiah Spode between 1789 and 1793, gives porcelain its unbeatable white colour and its shock resistance - which was the first goal-. Therefore it became one of the most sophisticated and noble porcelain to the world.
Bow factory was the first to produce this bone. Its style was designed for bourgeoisie at the end of the XVIIIth century. It was also the first to use chromolithography. This painting technique consists to trace the drawing on the piece like decalcomania also called transfer painting technique. It has been used for XIXth century. At the same time, new hard porcelain techniques have been created in the middle of the XVIIIth century. Those permitted to factories such as Worcester to produce important dishware series with chromolithography.
Which is the official porcelain factory ?
"Romantic, exuberant, superb, delicate, feminine, floral, shabby chic… are some of the terms used by collectors of the whole world to describe their favourite porcelain dishware and gifts brand : Royal Albert".
This well known factory using bone- whose name has been gift in honour of Prince Albert's birth, future King Georges VI - was also one of the first to receive the prestigious distinction from the Queen… distinction given to the factory for its export work, which permitted it to maintain privileged relations with the royal family. Royal Albert makes official porcelain dishware with the effigy of the royal family for all specific occasions such as the Queen Elisabeth II golden jubilee. 
Its history began in 1896 and its "bone china" tea sets with floral design inspired by british gardens and roses have known an immediate success which continues today. 
Many floral designs were red, green or blue in a japanese style. But furthermore the real Royal Albert porcelain success is to appeal at everybody, modest as rich people. A supple and steady approach of products and conception, and its success in Great Britain have conducted Royal Albert to an international success. Around 1910, the first agency opened overseas in New Zealand. Today, Royal Albert  stills commemorate important events and royal birthdays with limited series.  
---